Need to make a deposit into your student's meal account? Deposits can be made online at
www.SendMoneyToSchool.com
. It is fast, easy and secure.

Mrs. Arbuckle's 2nd Grade Class sharing their love for Concord this Valentine season.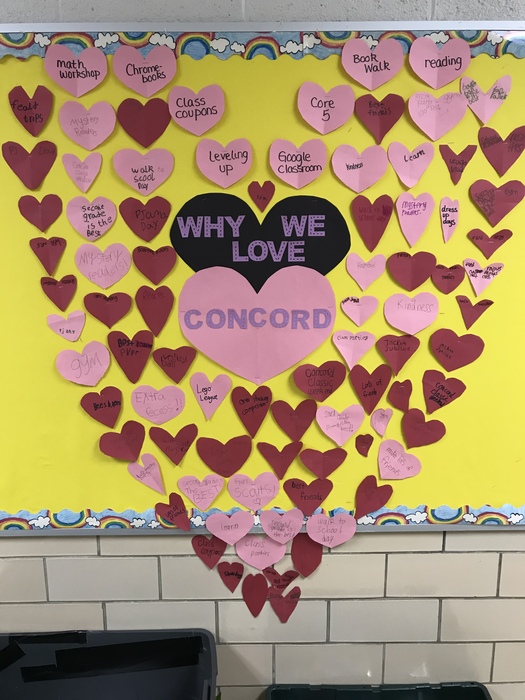 Concord Schools is considering partnering with ABC to provide summer childcare. If this may be of interest to you, please fill out this 2 question survey:
https://goo.gl/mqtCze

Thank you to Sondra for being our guest on Episode 3 of the Sting. Check out what's happening with the CHS band at
https://youtu.be/2e52gcM3las
The Class of 2019 will be hosting a Pre-Game Spaghetti Dinner on February 9th in the High School Cafeteria.

2 hour delay this morning

"Need an easy dinner plan? Come out and support the band's Disney fundraiser and have a Sloppy Joe Dinner at the Sandstone Church from 5-7. Dinner will be served both today (19th) and tomorrow (20th). Help us provide the experience of a lifetime!"

The School Board Meeting for this evening has been cancelled. Our next meeting will be on February 26, 2018 at 6:30 p.m. in the High School Library.

Varsity Basketball cancelled tonight. The make-up will be tomorrow.  The girls will play at 3:00 and the boys at 4:30.

Marley is getting noticed! Looking forward to great things from Marley and our sophomore class!
http://bit.ly/2qQ7mwJ



Congrats Shakaya! You're one of the best in the area!!!


Congrats Mr. and Mrs. Pughsley and welcome Zachary! Future Yellowjacket in the making 😀

Happy New Year! 2018 is going to be the year of The Yellowjackets!!!


Looking for some entertainment tonight? Join the Concord Bands for our Winter Concert tonight at 7:00 p.m. in the CHS Gym.