Please read the informational letter reagrding social media challenges.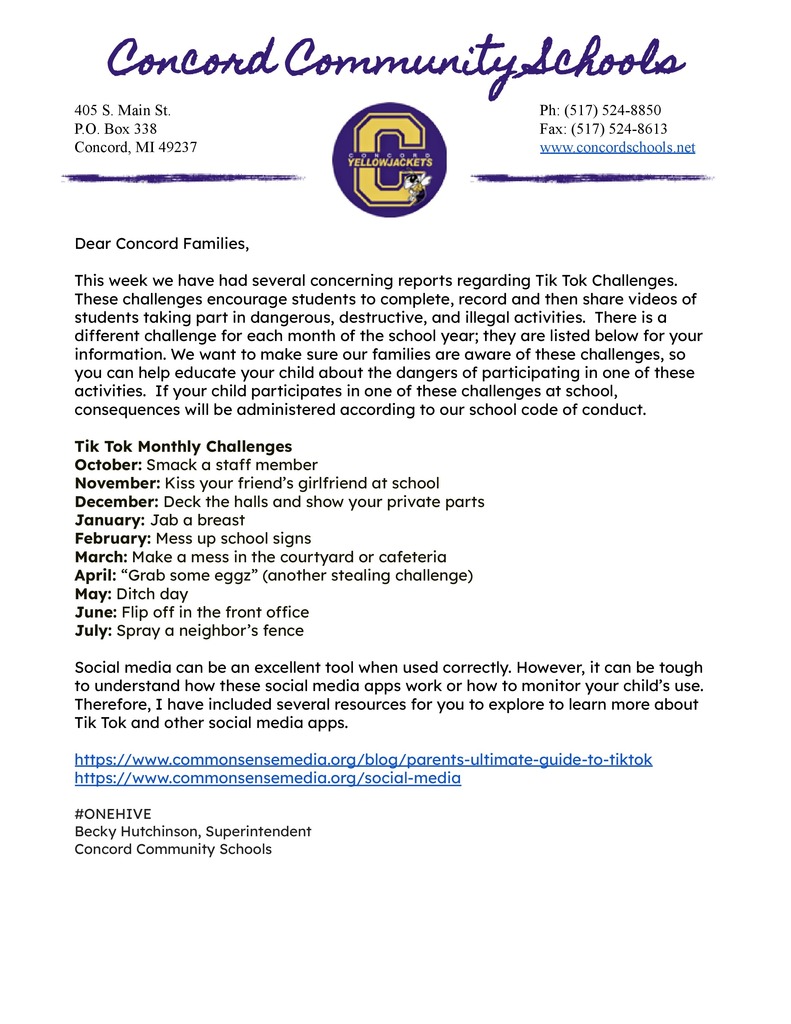 Homecoming Schedule Friday, October 1, 2021 4:30 JV Game Kicks Off 5:00 Parade Line Up on River Street Attention all Concord Youth Flag Football and Middle School Football players. Please wear your game jersey when lining up on River Street - You need your jersey to ride on the float. 5:30 Homecoming Parade down Main St Approximately 7:00- Varisty Kickoff Varsity Halftime - Homecoming Court Announced with the crowning of the Homecoming King and Queen 
Good Morning Yellow Jackets Busses may be running late today especially on the north side of the district. There is work being done at railroad crossings and our busses are having to take a different route.

We crushed week #5 in The Hive! Check out the details in The BUZZ!! Homecoming is next week click the link for more information!!
https://www.smore.com/57rp9

Reminder we have an early release today. The schools will be dismissed at 2:05.

Check out Week #4 of The BUZZ!! So many highlights from our FIRST five-day face-to-face school week since March 13, 2020.
https://www.smore.com/037xn

Join us for the community tailgate this evening!! Food will be served from 5:30-6:30; find more details in this week's edition of The BUZZ - Week #3
https://www.smore.com/1fg9v

Attention 3rd -6th-grade families - Flag Football begins on Saturday. If you register early you can save $10. Please see the flyer for more information!!


Due to high temperatures inside our classrooms and an expected heat index in the 90s tomorrow, we are going to make Thursday, August 26, a half-day. We will release the students at 11:05. Please stay cool and hydrated!

Join us for REGISTRATION DAYS!!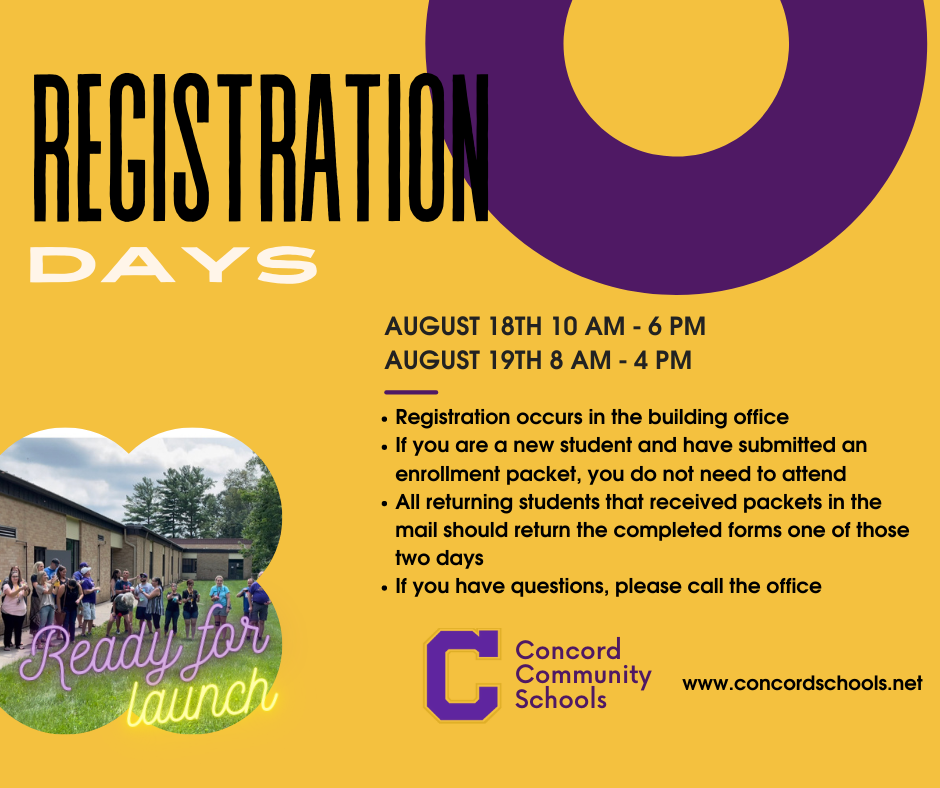 DAY 2 of SOFICI with @BuddyBerry and @BrookeTBerry did NOT disappoint!! We were the next contestants on Chopped Lesson Planning, discovered cutting-edge tech tools, and learned Choice+Interest+Philanthropy+Weird+Awesome=High Student Engagement We can't wait to watch our butterflies soar!! YellowJackets are you ready?? #ONEHIVE #SHATTEREXPECTATIONS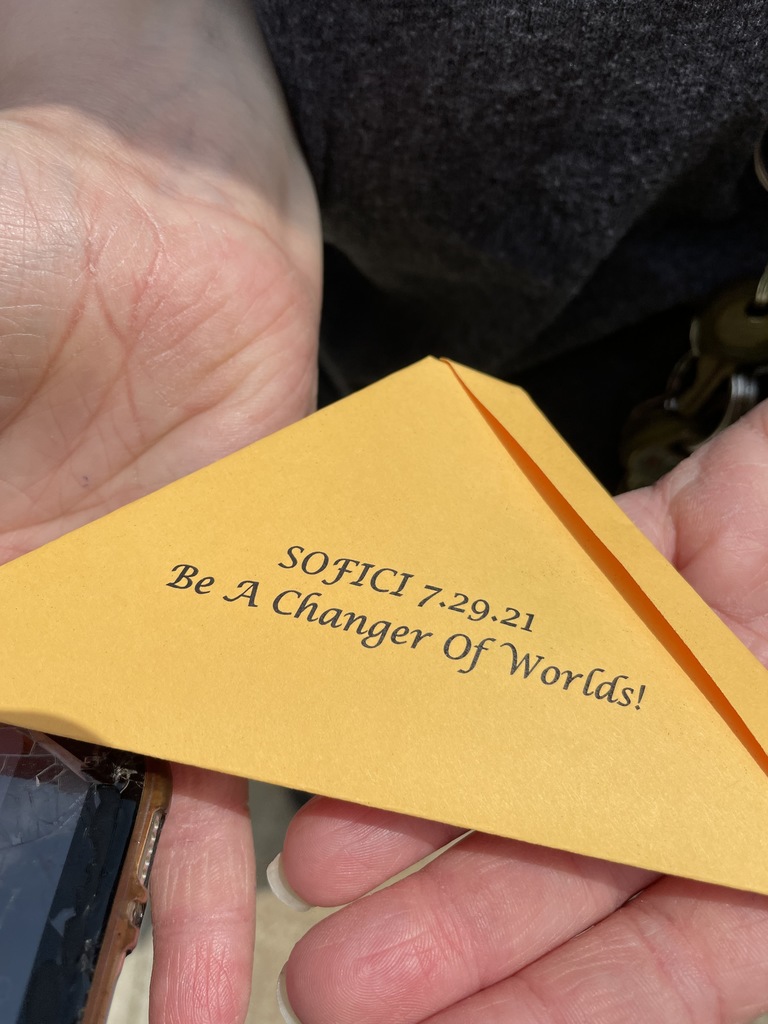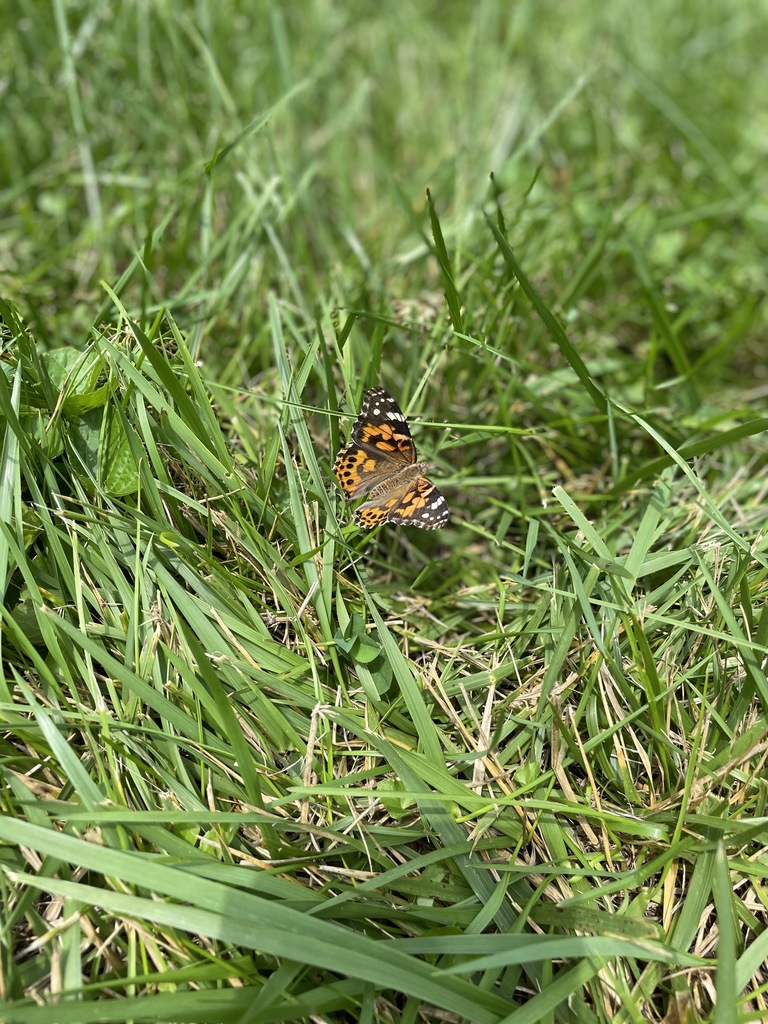 We launched the 21-22 school year today with PD that shattered expectations!!  We had over 40 educators on site today for the School on FIRE Institue of Creativity and Innovation.  The training was provided by @BuddyBerry and his very talented daughter Brooke from @EminenceSchools - The time today was spent taking a 30,000-foot view of what it means to become a School on F.I.R.E. There are a ton of pieces to the Framework for Innovation, but one of them includes Surprise and Delight.  It was incredible to see the joy in our teachers and for them to be able to experience firsthand how weaving a concept of surprise and delight into your classroom completely changes a person's ability to learn!! BEST PD EVER!!! YellowJackets are you ready for surprise and delight this fall?? #ONEHIVE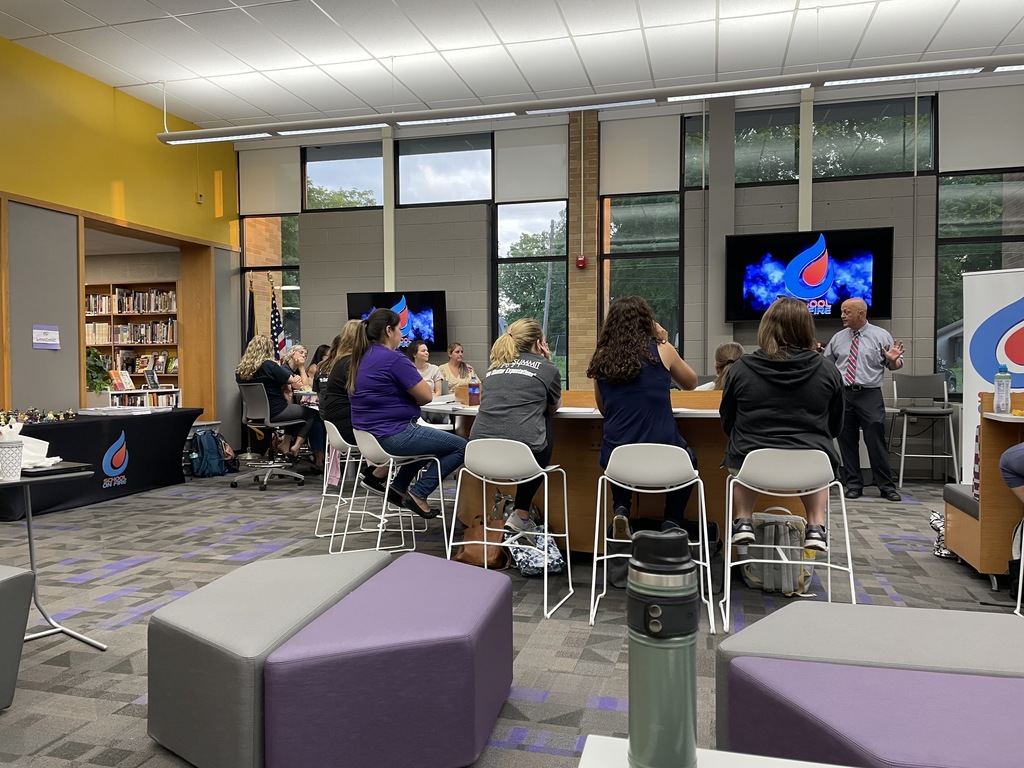 Check out this week's edition of The BUZZ. Graduation is on Sunday with the motorized recessional through town at 2:30. K-8 families, please remember Summer Camp Registration closes this Sunday, June 6 at 11:59 pm. You can find the registration form in the newsletter.
https://www.smore.com/5m7ny

Summer Learning Camp Registration is Now Open!! Please review the following form for detailed information about our free summer camp learning opportunities for our Jr. Jackets - 8th-grade students. The form contains information about each option available. The registration ends fast, Sunday, June 6 at 11:59 pm, and parents will be awarded their selected time slots based on first come first serve. If you have questions, please email me at:
rebecca.hutchinson@concordschools.net
Registration form:
https://forms.gle/7ChwqpJzfuvgdN4D6

This edition of The BUZZ spotlights our track team, fourth-grade wax museum, second-grade animal museum, junior leaders, and shares some information about summer learning opportunities. HAPPY MEMORIAL DAY WEEKEND!! We will see you on Tuesday!  
https://www.smore.com/k86up

Please enjoy this week's edition of The BUZZ! You can find the art pathway commercial launch, experience the Jackson County Virtual Art Show, and find the K-8 logo winners. Have a great weekend!!
https://www.smore.com/1at3k

This week's edition of The BUZZ includes information about a new summer program, our new commercial, and celebrates one of our YellowJacket that has shattered expectations.
https://www.smore.com/6smt5

Check out this week's edition of The BUZZ.  There is information about kindergarten round-up, the leadership class helping the incoming freshman, and a reminder to the high school students about turning in their course selection sheets.
https://www.smore.com/qnrya