PTO Fundraiser Update: PTO has extended the Little Ceasar due date from today to tomorrow September 16. Any in person order will not be accepted after tomorrow. Thank you

Dear Concord Families, This morning, we worked with the police to conduct a deep investigation into the reported threat. Security camera footage was reviewed. Deputy Jacobsen completed interviews. He has concluded that there is not a credible threat to the students and staff at Concord and there was a false report filed through the Okay2Say system. With that conclusion, we will have the school open for afternoon and evening athletics along with the regular school schedule tomorrow. That said, we know these situations are unnerving. Thus, we will be taking extra precautions over the coming days. We will continue to monitor the situation. We have encouraged our staff to continue to focus on building relationships with our students. Being proactive is important and relationships are key. Additionally, we will have a police presence and more adults at the entrance of the buildings each morning. We have reiterated the process for reporting threats and managing emergencies to our staff. We are very grateful for the support of the Jackson County Sheriff's Department, and we are grateful for our community. I know closing school is not ideal for anyone, so I appreciate your understanding as we completed the investigation.

Concord Community Schools will be closed Wednesday, September 14th.  Last night we received a threat of violence directed at Concord High School.  We are working with law enforcement to assess the threat.  Erring on the side of caution, in order to ensure the safety of our students and staff, we are going to close school on Wednesday, September 14, 2022.  We will work with law enforcement today to move the investigation forward and take the necessary steps to ensure the safety of our school community.  We will provide an update later today.  Please check your emails for more information.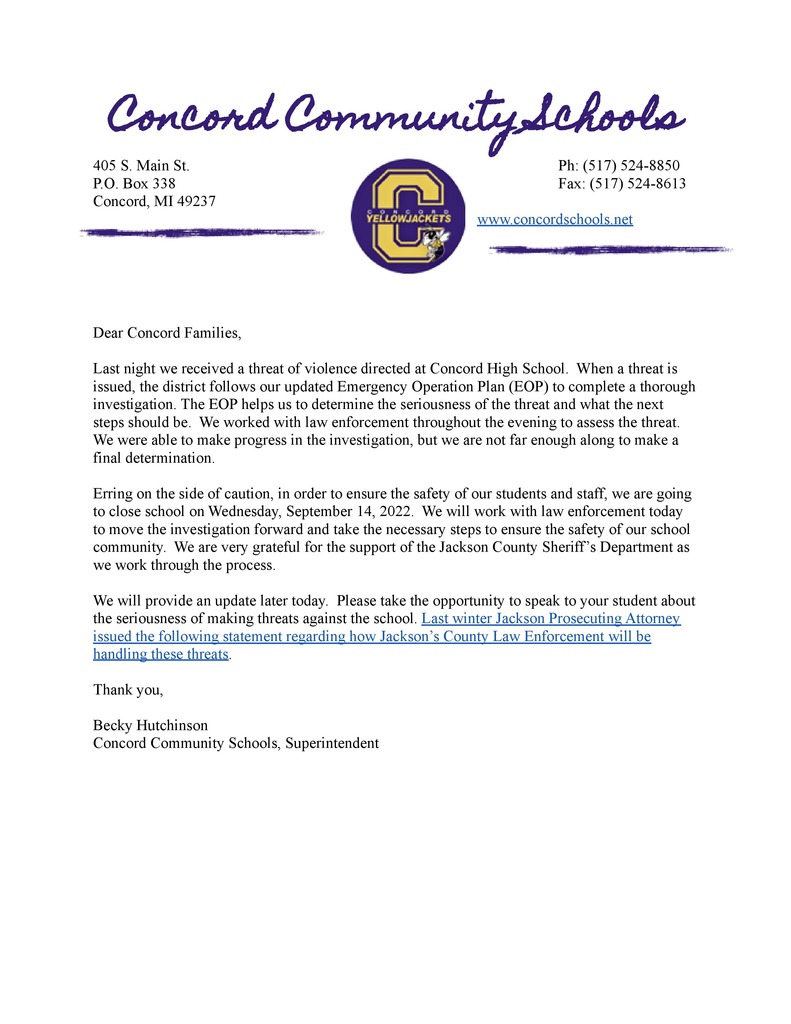 THE BUZZ is back!!  After a busy start, the first edition of complete.  Enjoy the stories from around the district and find out information about upcoming events. This morning at 9 am is the beginning of 3rd-6th grade flag football and next week is the Community Tailgate at 6:00. Enjoy your weekend!
https://www.smore.com/ya6j1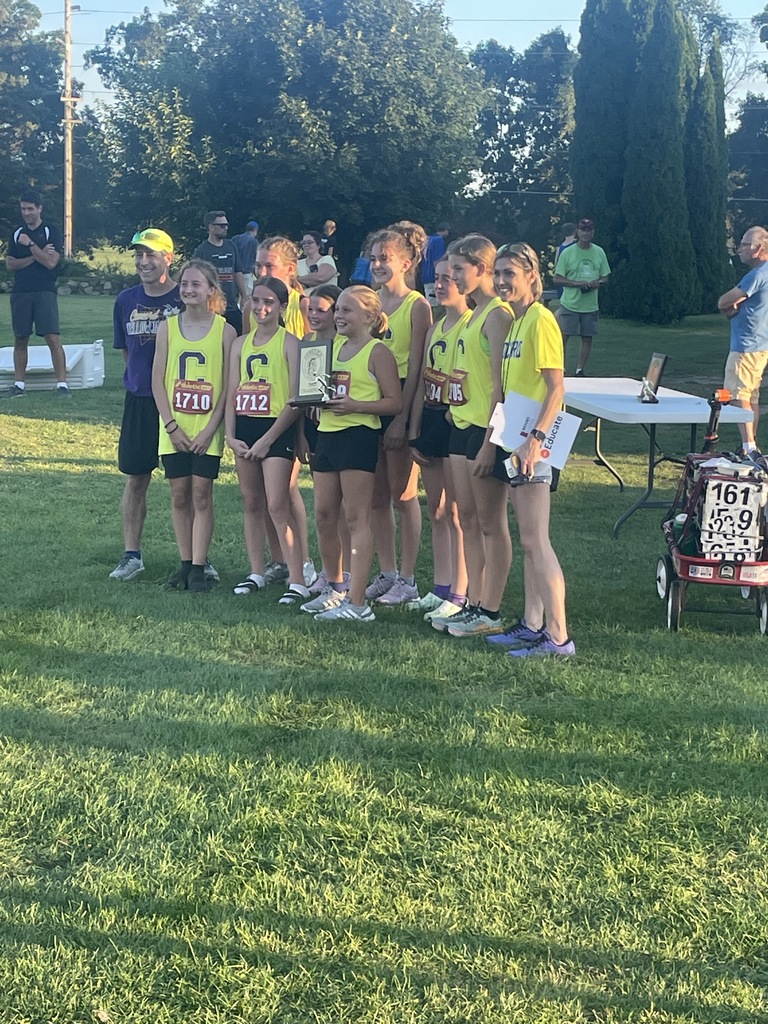 Picture Day is tomorrow September 7th . If you would like to make orders online you can use the following links Elementary Link - store.geskusphoto.com/search/4916ZJVLNJJHZJ Middle School Link - store.geskusphoto.com/search/4915ZTRHODZIMG

The power is back on! We had a fuse blow on a power line. The schools will be open tomorrow. Thank you everyone for helping us get our Yellowjackets home safely today. We appreciated your patience and understanding.

The crew has assessed the situation and unfortunately, we have no timeline for when we will have power back on. Therefore, WE WILL DISMISS STUDENTS AT 10:30. The buses will be dropping students off 25-30 minutes earlier than the half-day schedule used last week on Wednesday. If you need to reach the office, please use the numbers below. HS call 517-414-9629 ES/MS 517-581-2445 or 248-497-0214 Administrative 616-485-1372

K-8 Concord Families- Registration for FREE SUMMER camp is closing this evening at 11:59. You have four awesome opportunities to pick from. Complete the first registration form below to get more information and sign up your students before it is too late!
https://forms.gle/vrv4TjsXeGGsS6Sp8

CES and CMS have partnered with ABC Academy, Innovate Albion, the Jackson YMCA, and Camp Kimball YMCA to provide our students with free summer enrichment learning opportunities. That is right - FREE SUMMER CAMP!! For more information about the camps and how to register click here-
https://drive.google.com/file/d/1BF03Ugye2-ZoT8RY5mJOBnPuPa5y4WuZ/view?usp=sharing
​The first registration closes on June 6th at 11:59 pm.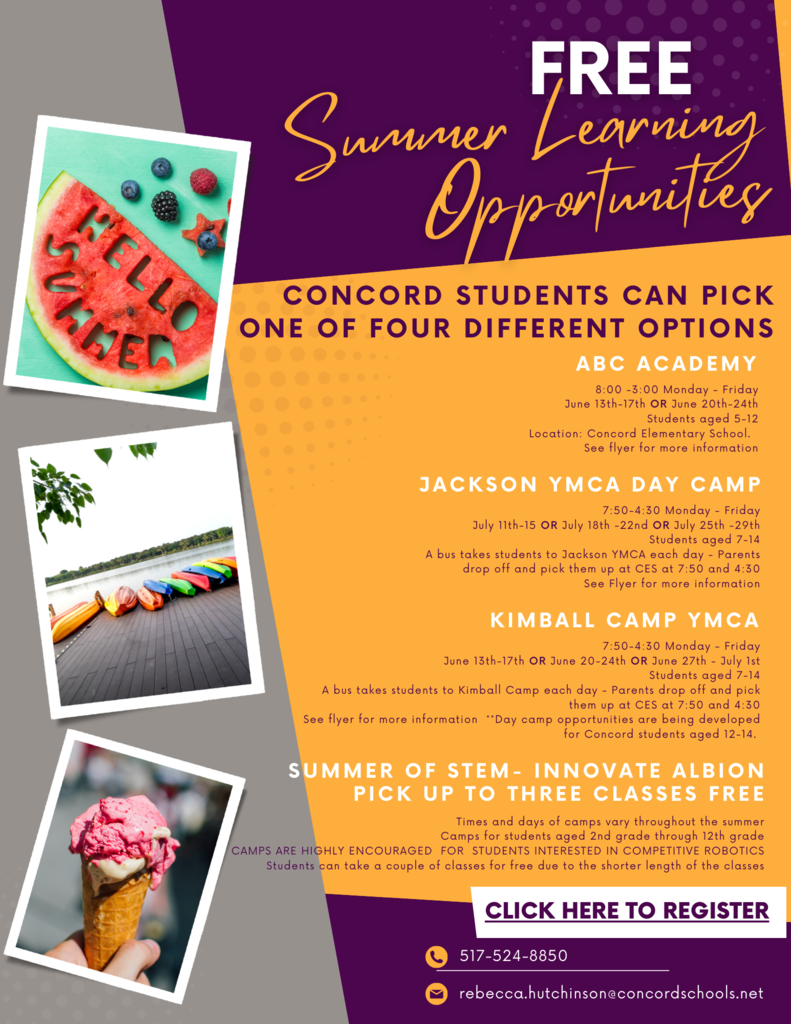 The BUZZ is ABSOLUTELY full of incredible stories. Take the long weekend and catch up on the great things happening across the district. I hope you have the opportunity to rest, reflect and honor the people that have made the ultimate sacrifice for our freedom. Join us for the Concord Memorial Day Parade that begins at 10 am on Monday.
https://www.smore.com/7us3r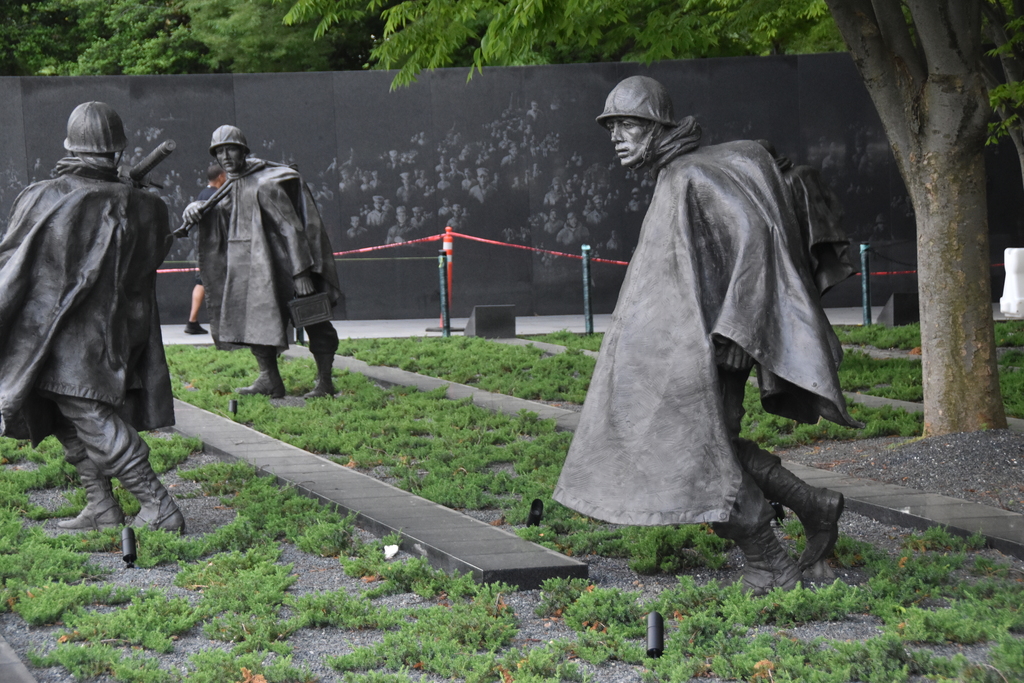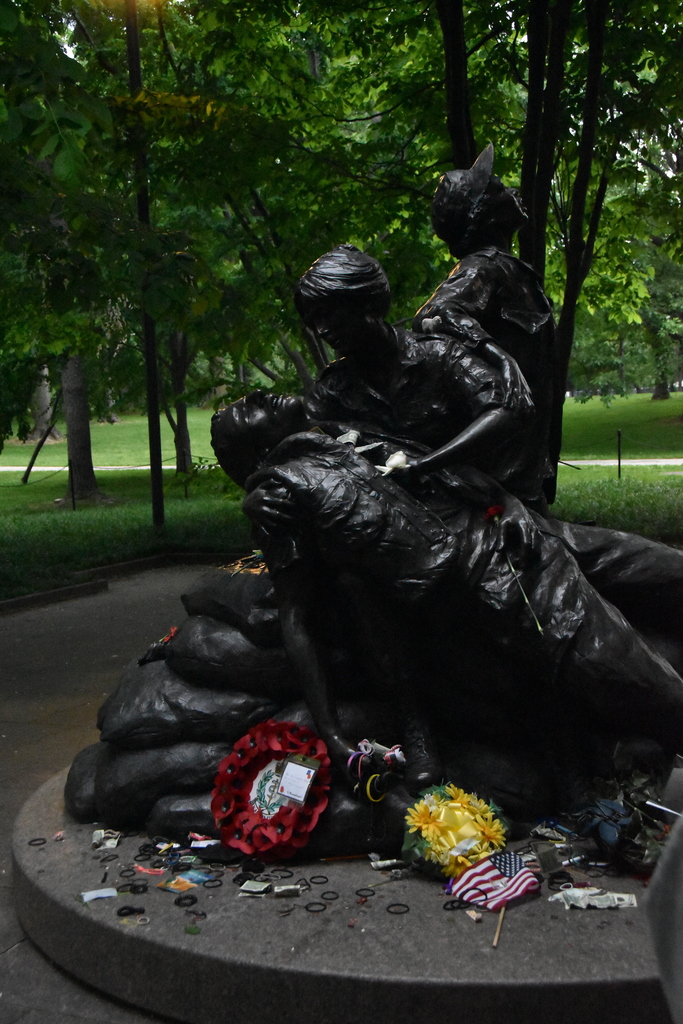 Today 5/18/2022 will be an early release. Students will be dismissed at 2:05.

It is FOOD TRUCK WEEKEND!!! Tomorrow 3-7 at the Cascades Events Center (due to a conflict with the Chuck King Invitational at CHS) 1404 Rowan Street Jackson, MI 49203. While you are there, check out this week's edition of The BUZZ for the recap on Decision Day, Prom, the new PE unit, and the Moore Math Marathon!!
https://www.smore.com/kjp8b
This is just a reminder from the PTO. Mother/Son forms and money are due tomorrow for the event on the 14th.

This week's edition of The BUZZ is full of gratitude!! We are thankful for our community, staff, and students!!!
https://www.smore.com/9gahc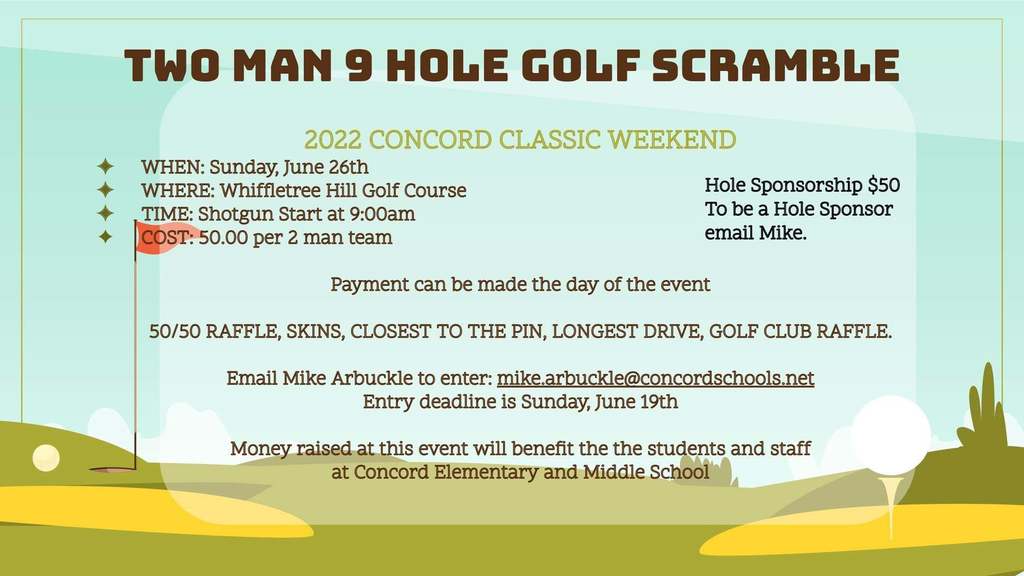 Today 5/4/2022 will be an early release. Students will be dismissed at 2:05

The BUZZ is bursting with sweet news!! You will find our new commercial, coverage of our appearance on News 10 this morning, information on the bond and sports physicals, a link to the Jackson County Art Show, and much, much more. Enjoy the spring weather!
https://www.smore.com/t7mrb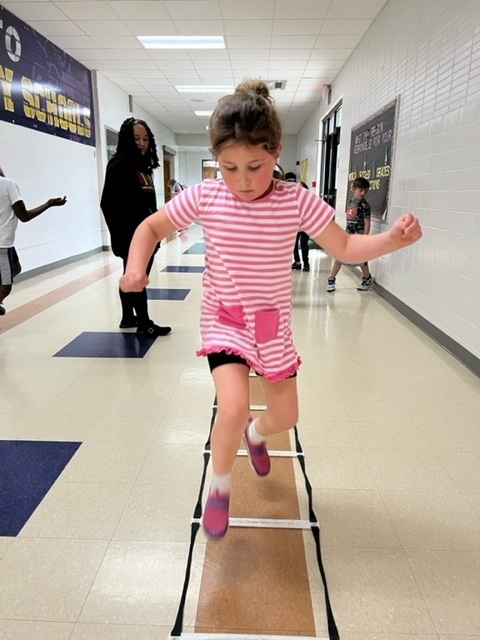 This edition of The BUZZ features several spectacular seniors, the start of the track season, and information on the 2022 Bond Proposal through a four-part video series. ENJOY YOUR WEEKEND!!
https://www.smore.com/hd271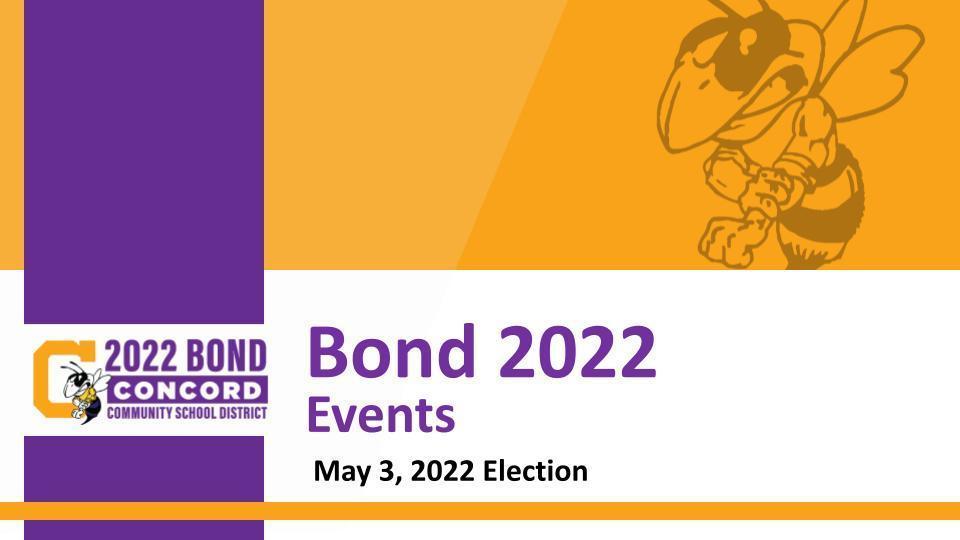 Tomorrow 4/20 will be an early release. Student will be released at 2:05.

We have BIG events buzzing in the Hive this weekend! The FOOD TRUCK RALLY is Saturday from 3-7 and our HS robotics team is at States!  For more information check this edition of The BUZZ. GO JACKETS!!  #ONEHIVE
https://www.smore.com/fr1w8

CONGRATULATIONS FULL METAL JACKETS FRC TEAM #5205!!! Their performance earned them ADVANCEMENT TO THE STATE CHAMPIONSHIP!!! They will be heading to Saginaw Valley on Wednesday, April 13th, 2022 to compete against the top teams in the state. GO JACKETS!!!!!