On Friday, your child was sent home with a letter and booklet explaining the PTO fundraiser that runs from 2/5-2/20. Students will get a prize if they fill out the booklet and return it to school on Monday. On Monday, there will be a fundraiser kickoff assembly. The addresses gathered will be used to create a one-time mailing list that offers friends and families the opportunity to purchase magazines at discounted rates.

No School 1/15

4th Grade Boys Basketball will begin after the holiday break. Wes Stevens will be coaching and organizing the kids. His contact information is
waltstevens_jr@yahoo.com
or 517-392-3705 to sign up.

Holiday Happenings at CES: The PTO Secret Santa Shop 18th-22nd- 7:40-2:00 First Semster Awards 12/19 at 8:00 am Cookie Decorating 12/19 3:00-3:30 Breakfast with Santa 12/21 7:00am-8:00am Holiday Sing Along 12/22 10:00am If you have questions about an upcoming event, please call the office at 517-524-6650

Upcoming holiday events at Concord Elementary School. Sign-up now for Holiday Cookie Decoration and Breakfast with Santa. Look for information coming home with your student.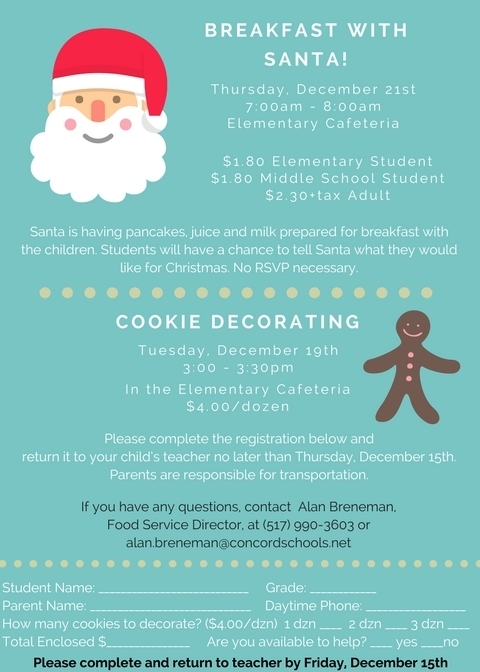 Winter Fun Fest Would you like to go Christmas shopping without your children? Well the Concord PTO has just the thing for you!!! Let your child enjoy a movie, crafts, and pizza while you shot. Saturday, December 9th From 2-6pm Cost $20 for one child each additional child is $10 per family

Parent-Teacher conferences are November 2nd and 3rd. If you do not already have an appointment, please contact your child's teacher to set up one today.

The Book Fair will be October 24th-27th from 8-2 and October 28th from 4-7 (during the Halloween Carnival)

The Concord Wrestling program will be having a K-5 mini wrestling camp Thursday October 19th and 26th 3-4:30. If anybody is interested the can contact me at 517-358-9419 or
coachshook09@gmail.com

Walk to School Day is October 4th! See the newsletter for more information.

Girl Scout Information Night is Thursday, September 21 at 6:00 pm. The informational meeting will be held at the Concord Youth Center, 155 Grove St. Contact Laure Skrzynski for more information 517-784-8543

16th Annual Donny Brigham Memorial Punt, Pass, Kick will be held Monday, September 18th at 6:30 on the Concord Football Field

Little Ceasar Pizza fundraiser order forms and money are due Tuesday, September 12.

Mrs. B is ready for registration! We will see you Monday or Tuesday!


Registration is: August 14th from 8 A.M.-4 P.M. and August 15th from 10 A.M.- 6 P.M. Supply lists and room assignments will be available. Enrollment and McKinney-Vento forms will need to be returned.

K-5th grade supply lists can be found under the document section of the website.

Elementary School K-5th grade supply lists can be found on our website under documents.