EDIT MAIN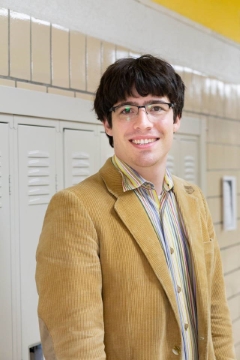 Mr. Kevin Specht is the Director of Bands at Concord High School and Concord Middle School as well as the music teacher at Concord Elementary School. His duties include coordination and teaching of the concert bands, marching band, and pep band. Mr. Specht has taught at Concord Community Schools since the fall of 2018.
Mr. Specht has performed with Boulder Concert Band (including as soloist), Denver Pops Orchestra (including as soloist), Oshkosh Area Community Band, Southwest Community Concert Band and as well as many other ensembles in Illinois, Wisconsin, Indiana, Tennessee, New York, Michigan, Colorado, and Oregon.
Before teaching at Concord, Mr. Specht was the Director of Bands at North Valley Middle School in LaSalle, CO and South Valley Middle School in Platteville, CO from 2015 through 2018. Mr. Specht began his teaching career by serving as long-term sub in elementary music, 5-12 band, and high school drama at Brimley Area Schools in Brimley, MI.
In 2018, he graduated with a Master of Music in music education from the American Band College of Central Washington University. Among his projects, he wrote a method book for teaching beginning drum set and wrote a band director's guide to both the French horn and the clarinet (with "A Band Director's Guide to the Clarinet" being featured as a model project by the American Band College). During his time at ABC, Mr. Specht performed with musicians such as Frank Ticheli, Robert W. Smith, The Canadian Brass, Doc Severinsen, and Joseph Alessi.
In 2014, Mr. Specht graduated with a Bachelor of Music in instrumental music education and tuba performance from Lawrence University in Appleton, WI. While at LU, Mr. Specht studied tuba with Marty Erickson, the former principal tubist of the United States Navy Band. During his time at Lawrence, he served as principal tubist in the Lawrence Symphony Orchestra and Wind Ensemble, performed with many other ensembles, and presented three solo recitals. He also was a popular writer with Lawrence University's "The Lawrentian" newspaper which published his weekly "Specht Pages" column.
In 2010, Mr. Specht graduated from Amos Alonzo Stagg High School in his hometown of Palos Hills, IL. During his time at Stagg, he performed with the Chicago Youth Symphony Orchestra, earned the spot of first chair tuba in the Illinois All-State Honors band as a junior and senior, performed with Music for All's Honor Band of America as a junior, and performed with the Honor Orchestra of America as a senior. He also soloed with his high school band as a senior. During his time at Stagg High School, Mr. Specht studied tuba with Jared Bulmer and James Hicks, current principal tubist with the United States Navy Band.
Mr. Specht has written pieces for his students and has commissioned composers Elena Specht and Spencer Arias to write pieces for his students. He has commissioned and premiered solo tuba pieces from composers Elena Specht, Jason Koth, and Stephanie Sundberg as well as pieces he wrote himself.
Some of Mr. Specht's non-music interests and hobbies include: home improvement projects, rollerblading, attending minor-league baseball games, listening to audio books, traveling around the country, biking, and spending time with his wife, Elena and his dog, Tucker.